Hello!
It feels strange typing this out.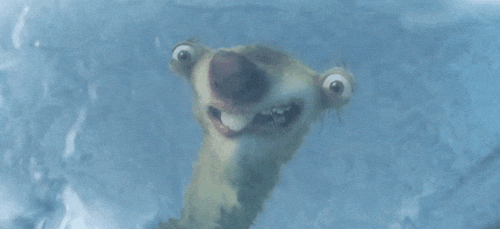 I haven't posted a blog post, or even written one for that matter, in over year! Because this blog has always been my e-journal guised as a book blog, it seems off chronologically(?) to post a book review without addressing my absence. So, let's start with a quick little recap of 2021:
I also made a video for video evidence, if you prefer to watch it!
At the beginning of 2021, I moved to Washington from California to start a new job.
Not gonna lie, it was a bit rough at first. For starters, Washington's gloomy weather is much different from the temperate climate I was used to in California. The rain and snow was cute when I first moved, but I quickly grew tired of all the clouds and began to understand how people in the Pacific Northwest can suffer from Seasonal Affective Disorder.
(Rain, rain, go away).
It didn't help that I worked night shifts, so even when the sun did show itself (🌞🔪), I was tucked under bed sheets trying to escape its rays (👹🔪). Working nights also made it difficult for me to establish a regular sleeping schedule and I had quite a bit of work anxiety, making relaxing in general a bit hard 😬. I felt the disorderliness of it all on my days off when I slept all day or pulled all nighters, never feeling completely rested.
Fortunately, I was living with my older sister, so I had some sense of familiarity and support. I think many of my troubles were expected with the changes, but I think I needed some time to get ahold of things. Hence, the long hiatus!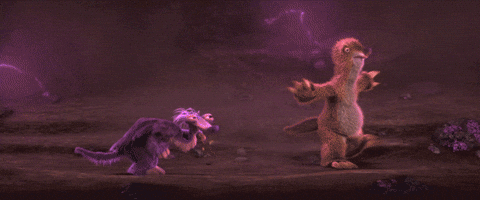 It wasn't all bad though!
Fast forwarding to mid-2021, the weather warmed up and I was able to get out more like others as COVID restrictions lifted. And let me tell you, Washington is beautiful in the summer. The sun set at close to 10pm on the longest days, and the cursed clouds finally cleared up so I could actually enjoy 🔥the great outdoors🔥.
A few of my best friends also visited me over the summer, allowing me to play tour guide 🤠. We hit up the touristy spots in Seattle, had a night out, and went on some hikes (my friend hated me for it 🤠🤠). It was such a breath of fresh air, especially since I hadn't seen one of those friends in almost two years.
At the end of summer, I quit the job the brought me to the new state in the first place because I couldn't hang. Life's too short, so I started a new job that was much more my jam – as in I didn't dread going into work anymore 💀.
The end of the year was a blur of work, family visits, and a few trips to Utah, Chicago, New York, and back home.
In Utah, I visited Zion and Bryce Canyon National Park, the highlight being hiking Angel's Landing. I actually hadn't known what Angel's Landing was until a couple months before the trip. Angel's Landing is one of the most popular hikes in the U.S. because of a steep section of the climb where you need to hold onto chains that are secured into the mountain. This "chain section" isn't recommended for people who are afraid of heights since there's a good 1,000 feet drop on both sides. But as someone who considers themselves afraid of heights, it actually wasn't too bad! The trail is still quite wide at the chain section, so it would take an active effort to fall. There were also a fair amount of kids (who looked like they couldn't have learned how to walk too long ago 🧐) on the trail!
If there's anything I took away from last year, it's that East coast cities just hit different. The Chicago and New York skylines were gorgeous and the cities' atmospheres felt livelier than any West coast city I'd been to.
In Chicago, I saw the good ol' bean, Art Institute, Riverwalk, and that one friend I hadn't seen in two years! (That's twice in one year!) My friend and I had met up on Thanksgiving day, but some advice if you're traveling somewhere on Thanksgiving: make a dinner reservation ☺️.
In New York, I also did the touristy things, like the Rockefeller Center, Central Park, and DUMBO. However, the best part of the New York trip was the time of year I went – Christmas in New York!!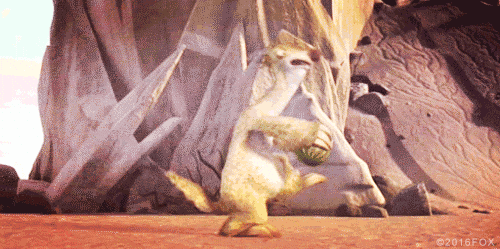 Now, we're pretty much caught up to this year. The beginning of 2022 did have it's exciting moments, but I think I'll save those for another time. 
Just to get us a little more up to speed, my previous job ended since I was contracted for a year and I ended up moving again within the state for my new job. For some reason, I also thought going back to school would be a swell idea, so I started an online master's program along with the new job (👹🔪).
okay okay let's wrap it up
In all of this, I realized I missed reading and talking about books.
Last year, I didn't reach my reading goal and I'm still well-behind on this year's 🤠. I've started reading consistently again, but it feels off not digesting the books after for a review or book chat.
This post will be my first attempt at returning to this hobby and community. I was very much out of the loop for the past year, so it will be fun trying to figure it all out again. Like, how do I even end this post? I don't know. Here's a dum dum gif: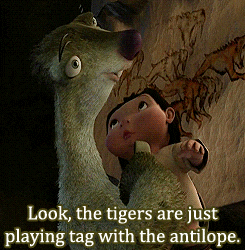 ---
Thanks for reading this post! How about you? What are some of your highlights of the past year? Have you ever gone on a blogging hiatus? If you have, what's the longest you took a break?